ANGLE on Excellence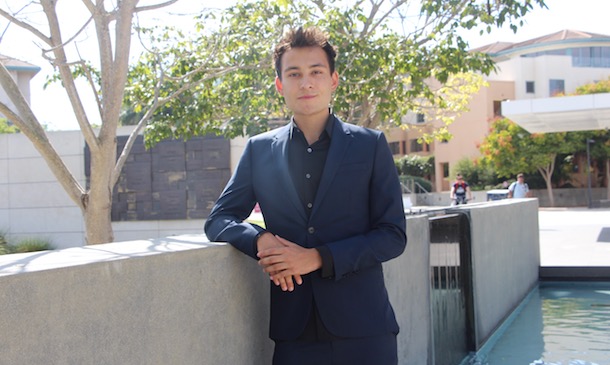 Equal parts scholar, globetrotter and filmmaker on the verge, first-year Tomasz "Tomi" Kufel is set to bring the LMU spirit center stage at this Sunday's Open House during the Provost's Welcome. An international student who attended high school in Norway, the film production major will address prospective students and families with a speech that will reflect on his journey to the bluff and student experience thus far.
"LMU had this sort of magnetic energy drawing me to it," Tomi said, citing its holistic approach to education, top-ranked LMU School of Film & Television and prime LA location. "Stunning campus aside, the school spirit and core mission really resonated with me."
Committed to providing an education that integrates academic development with real-world experiences, LMU currently ranks No. 75 among national universities, according to U.S. News & World Report (2022), an accolade Tomi can get behind.
"Since arriving, I've been afforded a wealth of new experiences and opportunities," he said. "In particular, the chance to be surrounded by my peers in the film school and start to collaborate with them has been so amazing."
A cinephile at heart, Tomi hopes to leverage the hands-on skills he'll acquire via his major to become a true "visionary," a writer/director/producer triple-threat akin to the likes of Christopher Nolan and Steven Spielberg. Coincidentally, his all-time favorite film is Nolan's "Interstellar."
Moreover, Tomi is using LMU student resources and some of his elective course credits towards exploring his passion for Japanese culture with a foreign language course and fulfilling his childhood dream of learning to play the violin with lessons from internationally recognized violinist and LMU Lecturer of Music Kenichiro "Ken" Aiso.
"The sheer breadth of wonderful opportunities at your disposal here is really indicative of the quality of the student experience," Tomi said. "I have no doubt my fascination for learning, as well as group of creative collaborators, is going to grow over the next four years."
Outside of his studies, Tomi is already active on the campus scene, recently elected Vice President of his dorm's Residence Hall Association, playing Ultimate Frisbee on an intramural sports team, and applying to become a Student Ambassador for LMU Undergraduate Admission, among other pursuits.
As for what advice he has for new and future Lions?
"Continue to develop yourself far and wide by taking advantage of the many opportunities and resources LMU has to offer," Tomi said. "And if you're among those in the midst of the college application process, try not to get overly stressed -- think of it all as a journey of self-discovery… destination LMU."