Max Isi: Physics Major in Career Blast-off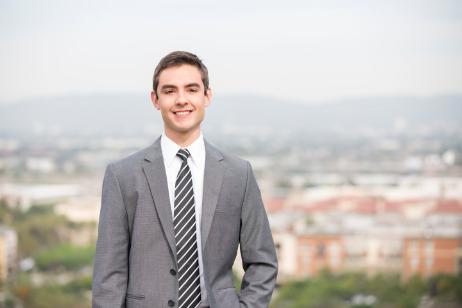 Four years ago, Maximiliano "Max" Isi came to LMU from his native Uruguay to begin his academic career. Fast forward and Max is about to begin working toward his Ph.D. in physics at one of the top-ranked programs in the world — The California Institute of Technology (Caltech).
During his undergraduate career at LMU, Max worked on several research projects, including one at Caltech concerning gravitational waves and even helped to build a nuclear reactor in LMU's physics department.
Such opportunities brought Max much success. Not only has he presented his research findings at conferences across the nation, he's also had several articles published in academic journals, including one in the highly respected Journal of High Energy Physics.
"I got to start doing research my freshman year," Max said, "a real rarity, especially in my country. That sort of thing is usually reserved for graduate students."
During his freshman year, Max and a fellow student were diligently working in the physics department when a senior classman mentioned the existence of a partly built nuclear fusor and said that if they cared to, could try their hand at finishing it.
Elated by the prospect, Max and his friend gave building the fusor a go and it became a four-year-long passion project.
"It really just symbolizes the sheer amount of opportunities at LMU," Max, a senior physics and math major, said.
For Max, LMU wasn't on radar during his college search. In fact, Max never even considered studying in the U.S. — that is until an undergraduate admission counselor from the university paid a visit to his high school.
"I was intrigued by the school's Jesuit mission and standards," Max said, '"the education of the whole person' mentality."
Max said that when he first took the leap of faith to study at LMU he had no clue what to expect, but during his first week on campus he was bowled over.
"I was meeting people from 30 different countries," Max said. "I come from a very homogenous place, so in a way it really opened up the world for me."
But LMU's international community wasn't the only thing to impress him: "I was amazed by the number of opportunities afforded LMU students," Max said, "the vast range of possibilities. I wasn't restricted at all, something very new to me."
And Max hasn't been shy about taking advantage of such opportunities.
Outside the physics world, Max is minoring in Asian Pacific Studies and found time to study abroad last fall in the UK. For a time, he worked on the honors program's multidisciplinary journal "Attic Salt," even having a piece of fiction and essay published within its pages.
Max says LMU and its community have definitely helped him become a better version of himself.
Looking to the future, Max is excited to begin working toward his Ph.D. in physics, a degree that can take upwards of five years to complete.
"I'll be attending the top physics program in the world next year," Max said, "and that would have been impossible without LMU."