Entrepreneurship Professor David Choi Prepares Students for Self-Made Success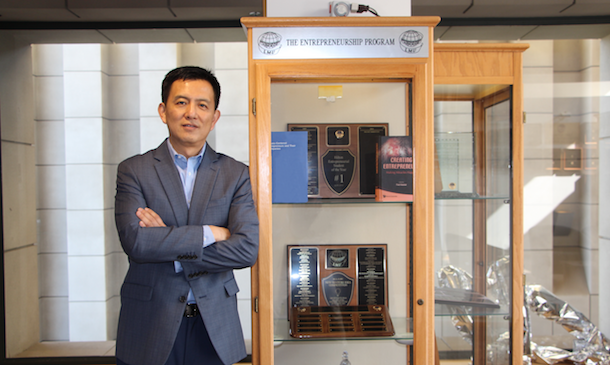 To wander into one of Professor David Choi's Entrepreneurship classes is to find oneself in a world flush with potential for academic and professional growth – not to mention endless opportunity. Since arriving on the bluff in 2003, Choi has been setting the bar high for students and faculty alike, leaving lasting impressions wherever he heads on his quest to lead the brightest business leaders of tomorrow.
"My job is to prepare students for the real world," Choi said. "I set a high standard and push students to meet and exceed it. I want my students to be proud and surprised of what they can achieve when they put in the effort. There is no A- in the entrepreneurship world – you either get an A or you do not make it."
Recently ranked as one of the top Entrepreneurship programs in the nation by The Princeton Review, Choi says LMU specializes in the science and art of developing entrepreneurial leaders and that at any one time there are 20-30 start-ups being developed by students in various stages.
"Once you join our program, you're joining a loyal community of professors, advisors, alumni and fellow students who are willing to support you," Choi said. "But let us also not forget our location: Los Angeles is perhaps the world's best place to start a company or a career – especially in tech, ecommerce, consumer goods and digital media."
Choi's crowning achievement at LMU thus far has been his creation of the Business Incubator, an innovative program that provides a select group of students with the workspace and guidance to prepare their businesses for the real world. Student teams gain valuable advice from seasoned entrepreneurs, investors, alumni and more. Several promising student and alumni businesses have already used the platform to launch their ventures to great success.
"I wanted students to have the opportunity to work on their own ideas," Choi said. "Students learn best by doing, so my Incubator class offers the chance to learn lessons that otherwise would not be possible."
Choi's slate of courses includes "New Venture Creation," "Business Incubation" and "New Venture Financing," and he describes his teaching pedagogy as unapologetically "demanding," while also very supportive.
Born in Seoul, South Korea and raised in Germany, Choi received his Ph.D. in Management from the University of California, Los Angeles and taught at a number of prestigious institutions prior to LMU, including Peking University, Korea Advanced Institute of Science and Technology and Korea University.
In 2011, he was the recipient of the Innovative Pedagogy for Entrepreneurship Education award from the United States Association for Small Business and Entrepreneurship for a collaborative course he piloted for students from LMU and the nearby Otis College of Art and Design. Most recently, he became a proud member of the Jesuit Honor Society.
Looking to the future, Choi says entrepreneurial competencies will be critical moving forward, citing advances in artificial intelligence/automation and the need for people who can not only problem-solve, but create their own jobs.
As for what advice he has for future lions?
"Our Entrepreneurship program offers so many ways for students to get involved, meet fellow entrepreneurs and sharpen their entrepreneurial skills," Choi said. "If you want to be an agent of change in a large organization or your community, entrepreneurship is an ideal field of study."