Pop Knowledge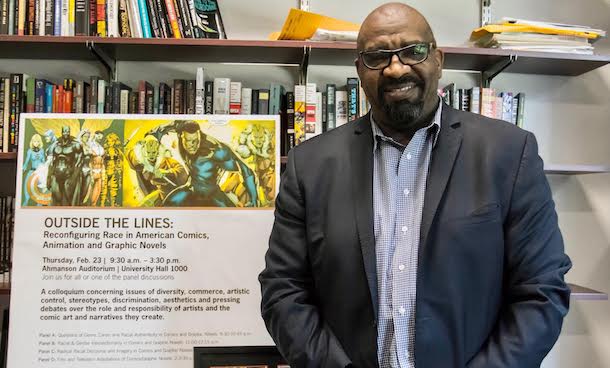 While some people reject pop culture entertainment as escapist, the desire to create and consume pop art and escapist entertainment makes it relevant and worth studying. Adilifu Nama, Professor of African American Studies from the top-ranked LMU Bellarmine College of Liberal Arts since 2011, believes it helps his students focus on and examine the intersection of ideology, pop culture, and race in America through a new lens.
With all pop culture, there is a component of escapism, Nama explains. Still, he would argue that it's not necessarily escaping from something that is the question, but rather, where are we escaping to, and what does popular culture provide us when we get there?
"This is the strength of African American Studies at LMU," Nama, who earned a Ph.D. in Postgraduate Studies from the University of Southern California, reveals. "Because of our critical and intersectional orientation, we can look at the familiar from multiple perspectives and different angles; thus begin to uncover direct or implicit bias surrounding Blackness in our society. More importantly, it allows for open dialogue based on each student's culture, experience, and influence with race in America and helps move students and the LMU community forward towards opportunities for positive changes."
One of the things Nama appreciates the most about pop culture is that it provides a starting point for meaningful engagement with important issues, and his students are often ready and eager to contribute their ideas.
"One of the interesting byproducts of being a scholar of popular culture and race is that all students have an opinion about the material we review," Nama said. "In terms of how people feel about it, if it is good or bad, or if we like it or dislike it."
He adds that it is unique compared to other disciplines that deal with the more unfamiliar subject matter, such as history.
"If we're going to study the French Revolution, we may know there's some guy named Bonaparte that plays a part in 1789 but compare that conversation during the first day of class discussion, with the real-time politics of cultural appropriation concerning Taylor Swift or Katy Perry," Nama said. "Pop culture can fuel our discussion and challenge our reflection around race, and my students have certainly enjoyed and benefited from this approach and scholarship."
Beyond the classroom, Nama is also an author and popular commentator exploring how Blackness has been imagined and reimagined in science fiction films, comics, Quentin Tarantino's movies, and most recently, Prince's artistic projects.
"My work is the analysis of the meaning and cultural significance emanating from film, music, comics, and television," Nama said. "I like to look at how these works provide our society the opportunity to look at itself, to contemplate itself, and to engage in confronting various issues that are socially vexing."
Before coming to LMU, Nama wrote "Super Black: American Pop Culture and Black Super Heroes." It's based on Nama's earlier research concerning Black influence on popular culture, Afrofuturism, and sci-fi symbolism. It continues to be relevant and applicable to recent representations of Black superheroes in works like Black Panther and HBO's Watchmen.
"What makes the film Black Panther special," he contends, "is that the comic book Black Panther was always Afrofuturistic, so it's not a matter of it being in sync with the popularity of Black superheroes, but that the Black superhero expands our understanding and appreciation of what is possible in terms of Blackness as a symbol and source of meaning in our society."
Is a major in African American Studies suited to your unique academic goals and strengths? Learn more about our innovative program HERE.