Steps for Change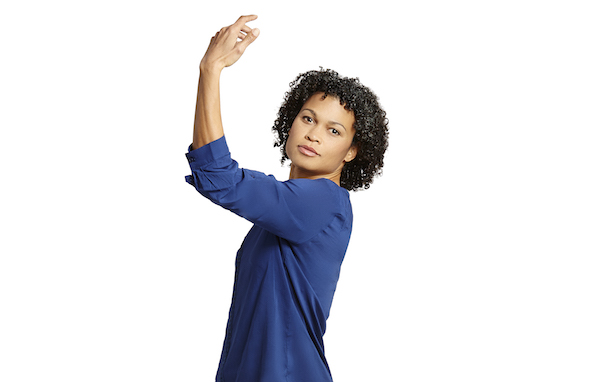 Rosalynde LeBlanc Loo, LMU dance professor and chair, leaped onto the bluff nine years ago and has been helping students reach daring new heights in modern dance ever since. Originally from Baltimore, Maryland, LeBlanc Loo aims to share bold moves with a toe pointed towards social change.
Most recently, she produced and co-directed a documentary called "Can You Bring It: Bill T. Jones and D-Man in the Waters," released in July to rave reviews. It brings to life the creative process that culminated in choreographer-dancer-director Bill T. Jones's tour de force ballet D-Man in the Waters, one of the most important works of art to come out of the AIDS crisis.
In the documentary, LeBlanc Loo has a group of young LMU students reconstruct and re-interpret the dance to deeper their understanding of its power – exploring what is at stake in their own lives to commit and perform it successfully. Through an extraordinary collage of interviews, archival material, and uniquely powerful cinematography, this lyrical documentary uses the story of this iconic dance to illustrate the power of art and the triumph of the human spirit.
"For me, teaching is about creating a classroom environment that is safe for discovery, but also rigorous," LeBlanc Loo said. "I want my students to understand that I'm not there to preach, but rather that I have a set of proven facts to share with them."
LeBlanc Loo, who earned a B.F.A from SUNY Purchase and an M.F.A. from Hollins University was initially drawn to teach at LMU for its mission and focus on social justice issues and views art as an excellent vehicle for social change.
"LMU has a great environment and community for it -- in particular our LMU College of Communication and Fine Arts," LeBlanc Loo said. "Our students are a good group of citizens who are focused, engaged, and interested in high achievement."
Before arriving on the bluff, LeBlanc Loo left an indelible footprint on the dance world, performing alongside Bill T. Jones and Mikhail Baryshnikov in his White Oak Dance Project. She also danced at the famed Metropolitan Opera House. She worked as a freelance dancer with many notable choreographers, including Lucinda Childs, Richard Move, Joachim Schloemer, and Noemi LaFrance.
LeBlanc Loo says she was first introduced to the art by her mother, who was also a dancer, and that her expressive nature coupled with natural athleticism made dance a perfect fit for her.
"It takes real tenacity to make it in the performing arts world," LeBlanc Loo said. "You have to treat your art like you're training to be an Olympic athlete."
She describes her teaching style as one that encourages academic and artistic discovery. Her courses include Fundamentals in Dance Composition, Modern Technique II and V, Repertory and Performance Studies, and Rehearsal and Performance.
As for what advice LeBlanc Loo has for incoming LMU Lions?
"Don't over-commit yourself," she said. "The most impactful learning comes when you give yourself the space and the time to focus on your passions."