Drawn to Excellence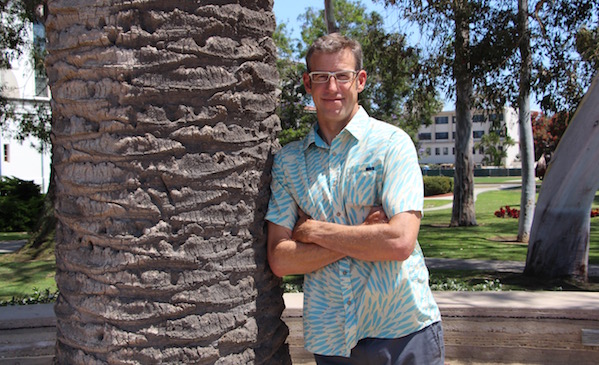 From the drawing board to virtual reality, Assistant Professor of Animation Shane Acker stokes students' imaginations and equips them with the tools to build vibrant story worlds from scratch. A Los Angeles native, Acker has only been teaching on the bluff for a few years but has already helped set dozens of student films in motion – not to mention careers.


"I love helping students achieve their visions and training them to make great films," Acker said. "Animation requires a lot of long hours, but LMU students are extremely passionate and invested in creating the best work possible."


No stranger to creating a compelling story world, Acker was still an MFA student in UCLA's Animation and Directing program when his short thesis film "9" caught fire on the festival circuit and went on to to be nominated for an Academy Award in 2005. The acclaimed short, which tells the story of an animated rag doll rallying against monsters in a post-apocalyptic world, spurred a feature film produced by Tim Burton and Focus Features, which Acker directed.


Acker says the experience is one his proudest professional moments, but that landing a teaching role in LMU's top-ranked School of Film & Television isn't far off.


"LMU's Animation program lays an excellent foundation for students to build on," Acker said. "We focus on the fundamentals and hand-drawn projects in the first year, then move on to working with digital tools and exploring the history of animation in the second."


Among the many exciting projects students work on, Acker says his personal favorite is the final project in his "VR Studio" class, in which students develop virtual reality alien safaris with users being able to drive hovercrafts through alien worlds.


Additional courses Acker teaches include, "Introduction to Storyboarding," "Introduction to 3D" and "Foundation in CG Animation," among others.


A die-hard fan of comic books and cartoons since childhood, Acker says the key to becoming a successful animator in an incredibly competitive industry is understanding visual storytelling, story structure and focusing on the fundamentals.


Beyond the bluff, Acker's 3D animation and pre-visualization work can be seen in such acclaimed films as "Lord of the Rings: The Return of the King," "Oz The Great and Powerful," and "Total Recall." In addition to his MFA in Animation, he also holds a Master's in Architecture from UCLA.


As for Acker's advice for incoming animation students?


"Be open to the animation process," Acker said, "And comfortable in destroying what you've created with the goal of making it better."