A Draw On Excellence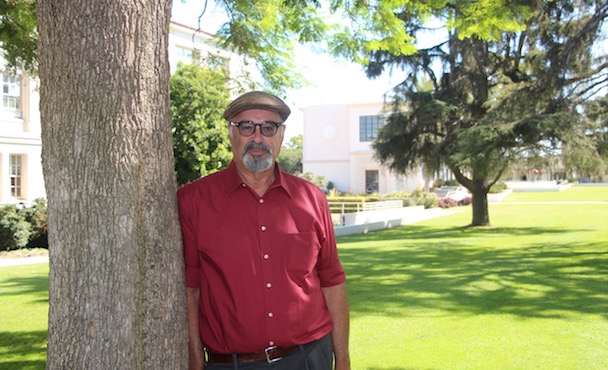 MARVEL this: LMU Professor of Communication Studies Dean Scheibel draws out the creative and critical KA-POW! thinking in his students with a few unconventional, yet highly effective educational tools—most notably, comic books. A maverick in every sense of the word, Scheibel has been sharing his unique take on the Communications field with LMU Lions for 28 years and counting, with no plans to stop adding panels to his strip any time soon.
Among a diverse slate of Comms-centric courses he helms, including "Intro to Communication Inquiry" and "Qualitative Research Methods," Scheibel's signature offering is "Comix and the Graphic Novel" (CMST 3671), in which students explore and critique the storytelling medium to the hilt then create page-turners of their own.
"We live in a very visual culture," Scheibel said, who is also the Director of LMU's Interdisciplinary Applied Arts Program (IDAP). "Being able to tell a story using words and images is an important skill to have in the communications field -- especially marketing and public relations."
For their final project, Scheibel tasks students with dreaming up graphic novel storylines that either reflect their growth as individuals via LMU's holistic education or explore a difficult issue they have grappled with in the past. He says in order to do this they use an advanced computer software program (Comic Life 3.0) that turns photographs they've taken into comic page templates.
"It's incredible to see students bring out the best of both their creativity and skills of analysis," Scheibel said. "Many tend to create a myth about themselves for the purposes of the story or talk candidly about such touchy subjects they've dealt with, such as mental illness and substance abuse."
This past summer, Scheibel amplified his passion for the medium by leading a course called "Intro to Comics and Graphic Novels" as part of LMU Summer Programs, a two-week pre-college experience for rising high school juniors and seniors that aims to enlighten and transform.
"Dean's enthusiasm for storytelling in the modern world is both infectious and inspiring," said Ashley Okimoto, Director of LMU Summer Programs. "He asks students to grapple with the idea of creating compelling visual content in an increasingly fast-paced and constantly evolving digital era."
She added that students in his two-week course, which mirrors his "Comix and Graphic Novel" undergraduate course, in many ways, glean important modern communication skills that easily transfer to a variety of career pathways they may be interested in pursuing in the future.
As for what advice Dean Scheibel has for LMU's future Lions?
"College is a balancing act," Scheibel said. "There is much to be gained from an LMU education, but when all is said and done, just do the best you can."