Focus on Excellence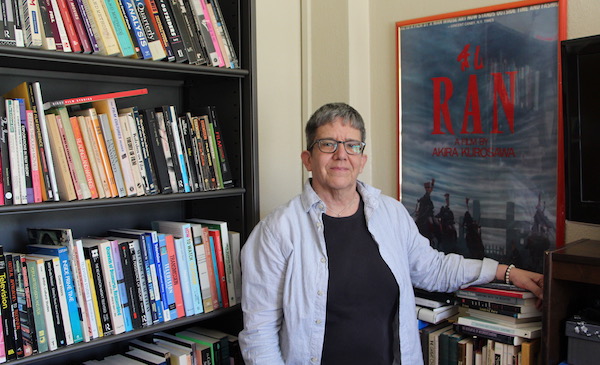 "We tell ourselves stories in order to live," mused legendary scribe Joan Didion once upon a time… a sentiment right out of LMU Professor Susan Scheibler's playbook. Blown from rural Kansas to LA over three decades ago, Scheibler's keen insight into cinematic storytelling comes full focus as she helps students deconstruct yarns spun for screens big and small in order to make sense of the world in which we live.
"Film and Television Studies explores what it means to tell this story in this particular way, and why and to whom it is important," Scheibler said, pointing to the field's emphasis on critical and historical analysis.
Currently ranked #8 in the nation by The Hollywood Reporter, LMU's School of Film and Television recently launched a major in Film, Television, and Media Studies (previously available only as a minor), providing an opportunity for cinephiles and aspiring film critics to explore the historical and theoretical foundations of film, television and media texts and the ways they circulate and shape perceptions in our increasingly global environment.
"The field plays an integral role in understanding filmmaking," Scheibler said, citing the films of American auteur Terrence Malick and cinematic deity Akira Kurosawa as among her favorite – in particular, Kurosawa's 'Kagemusha.' "It provides context, and context is key in being able to see the bigger picture."
Drawn to the LMU after earning her PhD in Critical Studies (Film and Television) from the University of Southern California for its mission and tight-knit community, Scheibler says it's been the students that have kept her rooted to the bluff.
"Our students are intellectually curious, and curiosity is the key to empathy," Scheibler said, describing her teaching style as discussion-based and light on lectures. "They are compassionate, attentive to one another and genuinely want to make the world a better place. We really see one another here."
She adds that a key ingredient in all of her classes is collaboration, whether it be through open discussion or group projects. For instance, in one of her courses on video games, "Theory and Analysis," students work together to design games that tackle social justice issues, then pitch their creations to one another for constructive criticism.
"I teach classes where the students and myself are partners in crime," Scheibler said. "We work together to solve the mysteries and tough questions brought about in visual storytelling."
Aside from her duties in the classroom, Scheibler holds a number of leadership roles on campus, including as Chair for both the Academy Honesty Committee and Core Curriculum, mentor for the Undergraduate Research Program and as a Faculty Adviser for Jugglers Unite.
In addition to her doctorate, Scheibler earned graduate degrees in New Testament Studies and The Philosophy of Religion from USC.
As for what advice she has for future Lions?
"College is the one time in your life where you have the freedom and time to explore and take risks," Scheibler said. "Take advantage of it and take advantage of your professors as much as you can. Don't be intimidated. We are here because we are committed to teaching and being your mentor and guide."