Face of Politics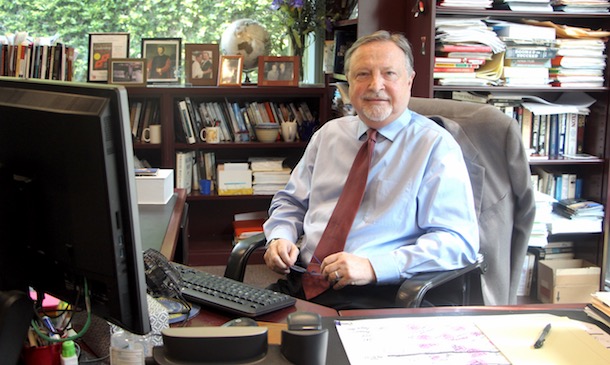 Ask LMU political science professor Michael Genovese what has kept him teaching on the bluff for the past 39 years, and he will say, "the students." As both director of the LMU Institute for Leadership Studies and president of the Global Policy Institute, a hallmark of Genovese's career has been creating dynamic opportunities for students to better experience and engage with the world around them.
Thanks to his pioneering efforts, students can now take advantage of various transformative programs ranging from internships in Washington, D.C., to summers spent at Oxford University. He was also instrumental in creating the Hansard Scholars Program, which sends students to the London School of Economics and Politics and places them in internships at the House of Commons.
In addition to being awarded LMU's Rains Career Service Award in 2019, he was selected by the American Political Science Association (APSA) to receive their 2017 Distinguished Teaching Award. This is only the fifth time in ASPA's history that it has conferred such an award.
"It has been the greatest singular honor of my career," Genovese said. "Especially since it recognizes the thing that is near and dear to me – teaching. And to be recognized among your peers – all great teachers – it's indescribable."
A graduate of the University of Southern California's doctoral program in political science, Genovese first started teaching at LMU during his time as a "gypsy" scholar, traveling to teach at various institutions. Upon landing a full-time position at LMU, he never looked back.
"LMU has been great in facilitating, as best they could, my career aspirations," Genovese said. "They allowed me to develop the Global Policy Institute, gave me an Endowed Chair, and we just have a quality of student that makes interactions a joy and not a chore."
The slate of courses Genovese teaches includes "The American Presidency" and "Political Leadership," both methodology classes designed to get students thinking more clearly. He has also taught lighter fare, such as Food Politics and Shakespeare's Politics.
"My goal is always to get students to think expansively," Genovese said. "I try to mix it up between lecturing, using experiential exercises, YouTube videos, the Socratic method, etc."
A frequent political pundit for CNN, not to mention the author of dozens of books, Genovese says he first became fascinated by politics during the Nixon administration.
"Nixon made me realize how important politics are," Genovese said. "Especially when we don't get it right. A good leader is someone who appeals to the best in us instead of the worst. The same qualities that make a great leader generally make a great human being."
So what advice does Genovese have incoming LMU Lions?
"Don't think you are going to come to LMU for four years and be locked away," Genovese said. "The students who grow the most are the ones who take advantage of all the opportunities afforded them. Be an active participant, not passive."