Tapping Talent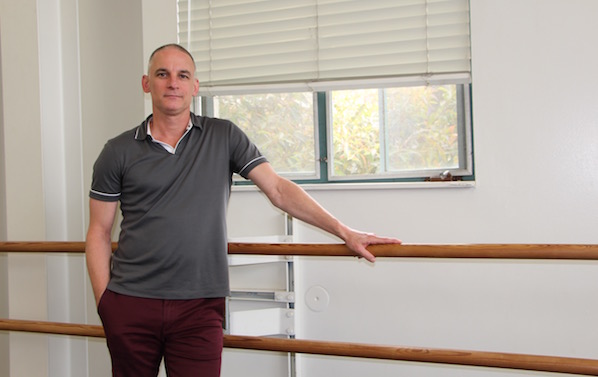 Students in Professor Damon Rago's dance classes get more than a lesson in fancy footwork; they elevate with a sense of self and creative flair to differentiate themselves for long-lasting careers. From Sacramento, California, to the LMU Westchester bluff overlooking Silicon Beach, Rago has been sharing all the right moves with students since 2000 and finds the top-ranked LMU College of Communication and Fine Arts to be the perfect place to express one's artistry.
"LMU's location gives students unique access to both the theatre and dance worlds," Rago said. "L.A. is a hot spot for dance – we can expose students to exciting professionals and opportunities in a very immediate way."
Before teaching at LMU, Rago was a member of the esteemed Ririe-Woodbury Dance Company and later the groundbreaking L.A. dance company TONGUE. He says he was first charmed by LMU while visiting campus with his dance company, often utilizing CFA's dance spaces to rehearse. He soon caught the attention of the then LMU College of Communication and Fine Arts' Chair, who encouraged Rago to consider teaching. A position soon opened up, and Rago leaped at the opportunity.
"I just remember being impressed by LMU's vibrant campus life and community of students and faculty," Rago said. "It felt very welcoming and down to earth, and I was eager to share my talents and have a positive impact on young people, in the same way some of my professors had on me. LMU students are incredibly driven, compassionate, and smart."
Rago's courses include "Fundamentals of Dance Composition," "Orientation to Dance," and "Senior Thesis," among others. Students who take his courses can expect to immerse themselves in teachings that demystify choreography and that approach the art of dance in a methodical way, with the ultimate aim of retaining one's creativity and individuality. The opportunities to connect with renowned dance professionals are also abundant. For example, students have had the chance to attend lectures led by legendary dancer and choreographer Bill T. Jones and work with award-winning choreographer Victor Quijada.
"Pursuing a career in dance requires you to put yourself out there again and again," Rago, who adds that LMU also offers a strong dance minor, said. "One needs to have a strong sense of self, as there is more rejection than rejoicing."
Recent graduates of LMU's dance program have showcased their talent to such heights as the famed Batsheva Dance Company, the bright lights of Broadway, and some have even launched their own dance troupes, including the L.A.-based Hexagon Dance Collective.
As for what advice he has for future LMU Lions?
"Be comfortable with the shifting sands under your feet – stability will come," Rago said. "Lean on professors and mentors, and never be too proud to ask for help."
Rago received his MFA in Modern Dance from the University of Utah and is a three-time Lester Horton Award winner for Outstanding Achievement in Performance.