Fresh Perspective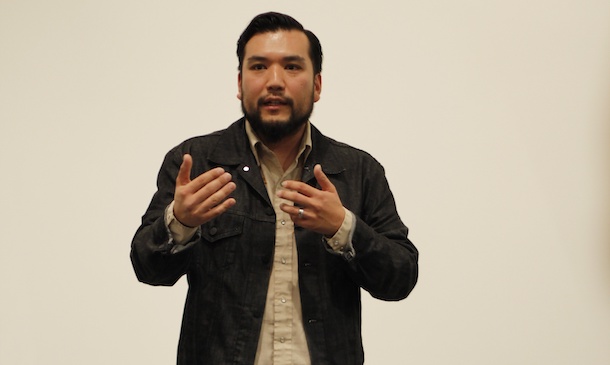 For Professor Masaru "Macha" Suzuki, it's all about perspective, one in which illusion becomes a reality through three-dimensional design. Suzuki, who joined the top-ranked LMU College of Communication and Fine Arts in 2017, offers students a transformative educational experience with a broad conceptual and formal approach to the fundamentals of art, preparing them for careers or postgraduate studies in the fine arts, design, multimedia arts, and art education principles.
"My goal as an educator is to develop young artists who are socially and environmentally conscious and adept at the principles of studio arts," Suzuki said. "LMU students are some of the most caring and compassionate young people I have had the privilege of instructing. They really care about who they are and what they can do to make the world a better place."
Suzuki says that during his time as a graduate student at Claremont Graduate University, he first became attracted to the principles of three-dimensional art instead of two-dimensional art.
"With two-dimensional art, you can only look at a piece of work from one perspective," Suzuki said, " but with three-dimensional objects such as sculptures, one can observe a piece from multiple angles while taking in the whole piece. This seemed so much more fulfilling to me. I liked the idea of picturing the viewers interacting with my work in a more meaningful way. To get the whole effect with a three-dimensional work, viewers need to walk around the piece and experience it from multiple angles."
Suzuki says he was drawn to LMU for its Jesuit mission, specifically for how its commitment to social justice is interwoven into the curriculum, providing him with the opportunity to not only teach students about the principles of art and design but to help them make a difference in the world through their art.
"LMU offers a unique brand of art education to our students in that we are committed to social and environmental issues," Suzuki said. "I love giving my students the tools to not only make good art but to make the world a better place through making art in a smarter, more environmentally-conscious way."
For example, in Suzuki's "3-D Design" course, he tasks students with creating 20 sculptures using discarded materials or trash.
"It's a way for me to get them working right away and getting used to the process of working in three dimensions in an environmentally conscious way," Suzuki said.
Among the tools available to studio art students, Suzuki says, is CFA's new makerspace studio, a design lab and innovation lab for graphic design and multimedia arts, and studios dedicated to our fine arts areas of ceramics, drawing, painting, and printmaking.
This summer, Suzuki will lead a course called "Make Something! An Introduction to 3D Art" as part of LMU Summer Programs — a two-week pre-college experience for rising junior and senior high school students that aims to transform and enlighten.
Under the guidance of Suzuki, student participants will have the opportunity to engage in a series of functional art and sculptural design projects in the studio arts' makerspace, where they will be encouraged to experiment with a variety of non-traditional sculptural materials while better understanding a variety of processes, including basic building techniques, casting methods, and more. Moreover, participants will leave the experience with a series of portfolio-ready works, which they can use in their college applications and an advanced sense of their artistic vision.
"For me, teaching is all about supporting a student's vision and helping them to find their artistic voice," Suzuki said. "I help students look inward at who they are, to tease out what's unique about them and to visualize that uniqueness in their work effectively."
As for what advice Suzuki has for incoming LMU Lions?
"Be open," he said, "to change, to new ideas, to new people. It will help you develop a better understanding of who you are, where your talents lie, and how you can put them into action for the greater good."
Suzuki received his B.A. from Studio Art at Azusa Pacific University and an M.F.A. in Sculpture from Claremont Graduate University. Before arriving at LMU, he taught art and design at Azusa Pacific University, Cypress College, Norco College, and LACHSA. Suzuki recently returned from Tokyo, where he exhibited his latest body of work in his second solo exhibition in Japan. His work, often autobiographical, deals with the notion of failure and the exploration, acceptance, and celebration of growth that results from failure. He has exhibited his work for over a decade in solo exhibitions throughout the United States in galleries and museums, including Laguna Art Museum and Vincent Price Art Museum.