Reaching Out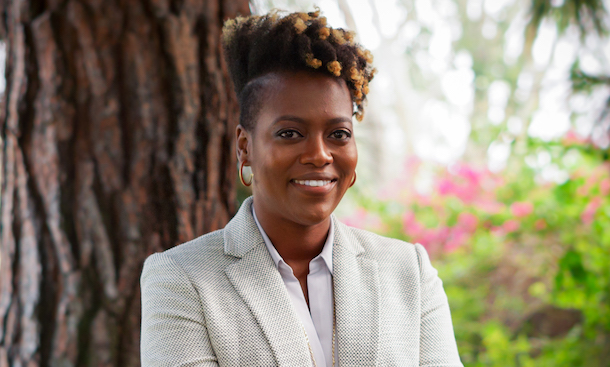 Author and researcher Magaela Bethune, Ph.D., brings expertise in community-based teaching, advocacy, and outreach as an assistant professor of African American studies in the top-ranked LMU Bellarmine College of Liberal Arts. She joined the faculty in fall 2020.
"I was drawn to the centrality of humanist goals within the university's mission to educate the whole person and to its culture of promoting engaged learning," said Bethune, who has co-edited several volumes and written book chapters on African American experience.
Bethune's current research focuses on developing new directions for research on Black adolescence, advancing quantitative intersectionality methodologies, and institutional equity analyses at intersections of race and gender. An ongoing research project that Bethune has been deeply engaged in since 2017 is her work with the United Methodist Church to illuminate and redress racial and gender inequity issues. It includes the publication of a series of reports for the UMC General Commission for the Status and Role of Women looking at gender disparity in clergy compensation, representation, and an upcoming installment on intersectional examinations of disparity in clergy experience.
Bethune said she is excited about the prospect of employing L.A.-based, community-engaged participatory research and outreach to study adolescent development, behavior, and health. One such project is taking form as a series of manuscripts that explore a conceptual framework for thinking about adolescent engagement in media practice and the ways in which this socialization impacts their identity, behavior, and development.
"My goal is for this conceptual project to serve as a foundation for developing exploratory community-based projects that directly engage L.A.-area youth," Bethune said.
Bethune is also eager to involve LMU students in this work. She teaches courses that collectively explore and interrogate racial formations, structural systems of domination, and the roles of Blackness and Black people in shaping the human condition. In addition to "Introduction to African American Studies," Bethune teaches "Race and Contemporary Society"; "Social Science Research Methods"; and a "Race, Health, and Social Justice" seminar incorporating her research and outreach background.
She added that the cultural, creative, and economic hub of Los Angeles is the perfect place to put down roots and advance her work.
"For my children and I, this transition from the South to California has been one that inspires many possibilities for us," she said.
Bethune earned her Ph.D. and M.S. in community research and action from Vanderbilt University; a B.A. in biology, with a minor in Africana Studies, and an M.P.A. from Georgia Southern University.