Models for Better Living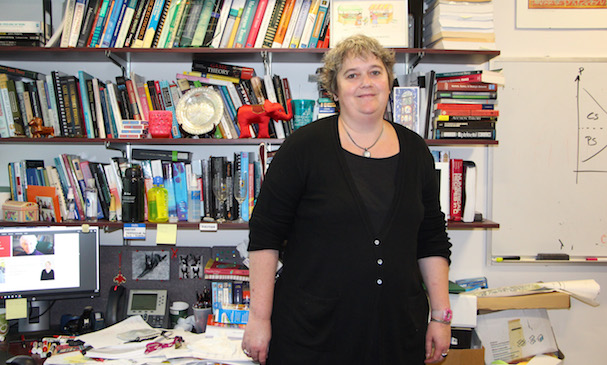 Associate Professor of Economics Dorothea Herreiner aims to teach her students how to devise economic models that simplify real-world problems, making those problems easier to tackle with real world solutions. Hailing from Germany, Herreiner has been sharing her passion for economics on the bluff for 13 years and counting.


"I love to see my students live up to their potential and catch fire," Herreiner said, describing LMU lions as "rigorous, active-learners."


A lauded microeconomist, game theorist and experimental economist in her own right, Herreiner received her Ph.D. in Economics from the European University Institute and her Masters from the London School of Economics and Political Sciences.


"Economics, the study of how individuals and societies allocate scarce resources, will always play a big role in our society," Herreiner said. "It guides policy-decisions and helps us develop a more accurate picture of human behavior."


Most recently, the LMU Bellarmine College of Liberal Arts was ranked in the top 11 percent of Liberal Arts, Sciences and Humanities Programs in the nation for 2018, according to College Factual.


Originally drawn to LMU for its small class sizes and close working relationships between teachers and students, Herreiner says an integral part of her approach to teaching is giving students the ability to thoughtfully analyze situations and identify the incentives people bring to the table.


"Someone pursuing the major should have an analytical mind, a willingness to tackle complex problems and a decent understanding of human behavior," Herreiner said.


She adds that she tries to develop projects that tease out these traits, including one involving Bitcoin, raising questions of self-confidence, attitudes, roles of stress in decision making, how people form different networks and the criteria for fairness and justice – all important considerations in economic decision making.


"Economics drive the world," Herreiner said, "and it's a way of thinking that helps us understand a lot real-world situations."


The recipient of LMU's Economics Department Teacher of the Year Award, Herreiner's courses include "Environmental Economics," "Game Theory," "International Microeconomics" and "Mathematical Economics," among others.


Outside of the classroom, Herreiner played a key role in developing LMU's new Academic Honesty Policy, organizes Orientation programming for part-time faculty members and was previously the Director of LMU's Center for Teaching Excellence.


As for what advice Herreiner has for incoming lions?


"Use the fact that you have a really great student to teacher ratio," Herreiner said. "Make sure to take interesting and difficult classes and take full advantage of office hours. I always have an open-door policy."