Better Living Through Chemistry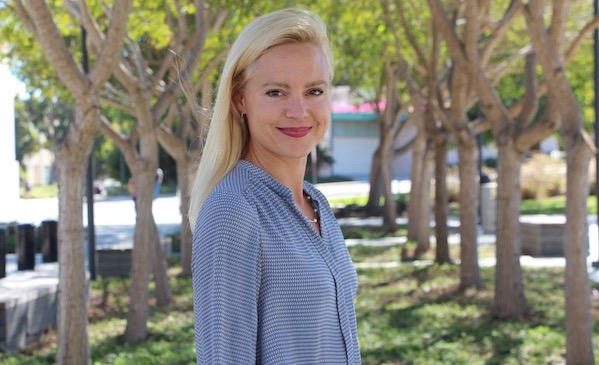 Associate Professor Emily Jarvis doesn't just teach students chemistry that works, she teaches them chemistry done right. A native of Orange County, California, Jarvis' passion for her work is evident through the accomplishments of her students and her department.

"The mission of the university has been instrumental in getting our department involved in the Green Chemistry Commitment," Jarvis said, the aim of which is to teach students how to design and develop innovative, efficient and environmentally sound chemical solutions to the health, safety and effectiveness of chemical products and processes.

She adds that LMU was the first private four-year university in the western United States to sign the commitment, planting the seeds for a truly transformative curriculum.
In 2019, Jarvis ventured with three of her students to Oxford, England where they presented research at the annual International Conference on Innovative Applied Energy.

"This experience gave them a widely international forum in which to present their research and see it in a context with a diverse set of energy topics ranging from very esoteric/academic to very applied and spanning fundamental science to policy and marketing," Jarvis said, adding that the conference drew over 100 universities from around the world.

LMU Lions Emmett Barnes and Thomas Kelly presented research talks related to the design of organic polymers for solar and electronics applications, while fellow peer Jared Lyons presented a poster detailing his findings on the structure and reactivity of metal oxide nanopowder surfaces for use in solar and catalysis applications.

"Seeing the variety of concerns and projects from different corners of the earth was instructive in of itself," Jarvis said, who chaired two sessions at the conference and gave an overview presentation. "It was interesting that several talks highlighted the new solar standards for new housing construction in California that will be enforced in 2021 even though these speakers were from Australia, Belgium, and China, among others."

Jarvis added that her students' path to the conference followed a year of independent research done with her, as well as participation in LMU's Summer Undergraduate Research Program (SURP) and the Undergraduate Research Symposium. Presentations for the conference were peer-reviewed from abstracts submitted last fall and selected on their merit and topic content.
A graduate of UCLA's doctoral program in chemistry, Jarvis was originally drawn to the bluff nine years ago for the university's mission, teacher-student model, and intimate size and continues to be impressed by the level of commitment and drive she sees in her students.

"LMU students really embrace the mission's tenet of educating the whole person," Jarvis said. "I see it in their dedication to their coursework, outside the classroom, in their service to others. And likewise, the faculty is equally as dedicated."

Jarvis describes her teaching style as employing aspects of the Socratic method, while bringing in current examples and those from her own research that directly relate to the fundamental principles being studied. Her courses include "Physical Chemistry," "Physical Chemistry Lab," "Quantum Chemistry" and "Wine Chemistry," among others.
Additionally, Jarvis is a member of the iSTEM team via top-ranked LMU Frank R. Seaver College of Science & Engineering; a first-year program designed to expose incoming Seaver students to the opportunities for interdisciplinary research and academic life beyond the classroom.
"Due to the unique circumstances of this semester," Jarvis said, "we also are placing a high priority on making sure that this provides social opportunities for our incoming students to get to know one another as we embark on a virtual semester together."
Prior to LMU, Jarvis was a Science Policy Advisor for the U.S. Senate and National Institute of Standards and Technology and taught for periods at both Kenyon College and Gordon College.
As for what advice Jarvis has for future LMU Lions?
"Now more than ever, it is so important to make connections with other students and faculty," she said. Come to virtual office hours and get to know your professors. We want to get to know you beyond the classroom!"