Mining the Psyche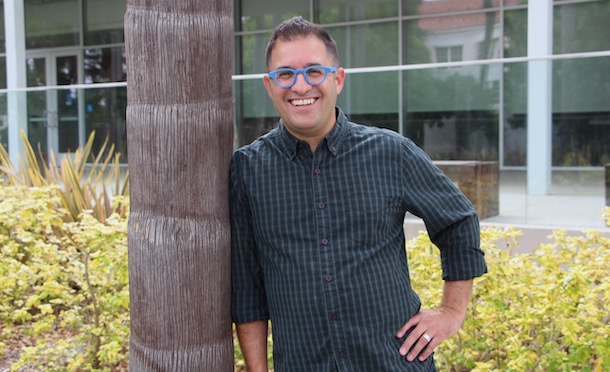 To step into one of Professor Adam Fingerhut's psychology courses is to turn the mind's eye to the vital role context and environment play in shaping who we are as individuals and how we think and behave in society. Fingerhut, who has been teaching on the bluff via the top-ranked LMU Bellarmine College of Liberal Arts since 2007, aims to help students think critically about such topics to further their development as socially responsible citizens committed to building a more just world.
"I aim to challenge my students in big ways," Fingerhut said. "Through research-backed data and discussion, I encourage them to think philosophically and scientifically, to grapple with the fundamental reality that there is no such thing as objectivity in our social world."
Fingerhut, who teaches courses on research methods, general psychology, and social psychology, specializes in the study of intergroup processes such as social identity, prejudice, implicit bias, and outgroup allyship, among many others.
"There is no part of our existence that is not influenced by our identity," Fingerhut said. "Because we know that group identity influences outcomes ranging from mental and physical health to how we interact with and perceive others, it's imperative that we acknowledge these identities and explore their implications on others. Having my students explore their implicit attitudes and implicit prejudices forces them to grapple and see things as they are, which I think is a necessary step for them to become the people with and for others that they genuinely want to be."
Drawn to teach at LMU for its Jesuit mission, particularly its commitment to educating the whole person and promotion of social justice, Fingerhut says that he sees these tenets at work every day, by students, faculty, and on an institutional level.
"LMU articulates a mission and works to live by that mission," Fingerhut said. "I think our students, on the whole, really embrace it. They want to be people for, and with others; they want to be a part of creating a more just and equitable society."
Admitted LMU students can get a sneak peek at Fingerhut's research and teaching style during his Become an LMU Lion Spotlight Seminar, "A Primer on Implicit Bias," on Wednesday, April 27 at 4 p.m. PT.
"I think many people walk through the world assuming they are fully in control of their attitudes and prejudices," Fingerhut said. "But cognitive and social psychology has made clear that there is an active non-conscious that can profoundly influence the way we perceive and judge others. It takes hard work and commitment to overcome many of the biases that we are socialized to have."
As for what advice Fingerhut has for incoming LMU Lions?
"Be open to the possibility of transformation," he said. "So many students in the modern era are of the mindset that they have to know who they are and what they want to be at an age when quite literally their brain is not finished developing. LMU offers so many rich experiences, and to truly get the most out of your experience, one has to dive in and explore."
Fingerhut earned a B.A. in Psychology from Stanford University and his Ph.D. in Psychology from UCLA. Fingerhut received the Michele Alexander Early Career Award from the Society for the Psychological Study of Social Issues (American Psychological Association Division 9).