Screenwriting Professor Mark Evan Schwartz Draws Out Talent in Students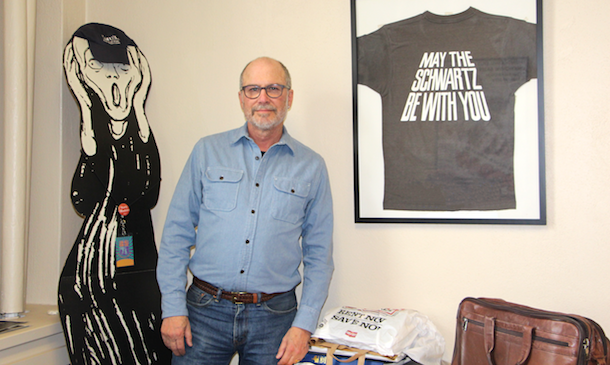 LMU Professor of Screenwriting Mark Evan Schwartz doesn't just set the scene for his students, he draws out their voices, enabling them to tell stories that resonate and ring true. A native of Gastonia, North Carolina, Schwartz came to LA to make movie magic – little did he know he'd also be making it in the classroom.
"As a professor, I feel that if I can open a student up to confidently express themselves creatively and honestly, then I've done my job," Schwartz said.
Arriving on the bluff in 2000, Schwartz began his career in the classroom with an already impressive industry track record, having worked as a screenwriter for horror auteur Roger Corman, a production assistant for legendary filmmaker Francis Ford Coppola and as a story and development executive, helping bring such film classics as "When Harry Met Sally" and "The Princess Bride" to the screen.
But Schwartz calls his decision to begin teaching at LMU the best career move he's ever made, and says that the nationally-ranked School of Film and Television stands out from the pack.
"Our support of independent student voices, the small class sizes and sense of closeness that evolves between faculty and students in their working relationships really fits in with the mission," Schwartz said. "People don't realize what an extraordinary village this is."
Schwartz adds that he aims to cultivate a classroom environment that encourages full creativity without bounds and a keen appreciation for the First Amendment.
"I remind my students of things they already know and open myself up to learn from them and then express it back," Schwartz said. His current slate of courses includes "Intermediate Screenwriting," "Screenwriting Thesis" (undergraduate and graduate level) and "Adaptation," for which he created the curriculum.
This summer, Schwartz will lead a course called "Beginning Screenwriting" as part of LMU's Summer Programs, a two-week pre-college experience for rising junior and senior high school students that aims to transform and enlighten.
Schwartz says students will explore the dynamics of cinematic storytelling through writing exercises and watching fantastic films.
"The outcome of the course will be a polished short screenplay and hopefully a substantial understanding of cinematic storytelling and an ability to connect deeper with themselves and their own writing," Schwartz said.
Schwartz says his own personal favorite storytellers are directors Stanley Kubrick and Robert Altman, among others, and that his favorite film is 1962's "To Kill a Mockingbird."
As for what advice he has for future lions?
"Expose yourself to everything on this campus," Schwartz said. "Read lots of books, see lots of plays, go to museums, and engage politically and socially."