Interdisciplinary Research for Neuro-Rehabilitation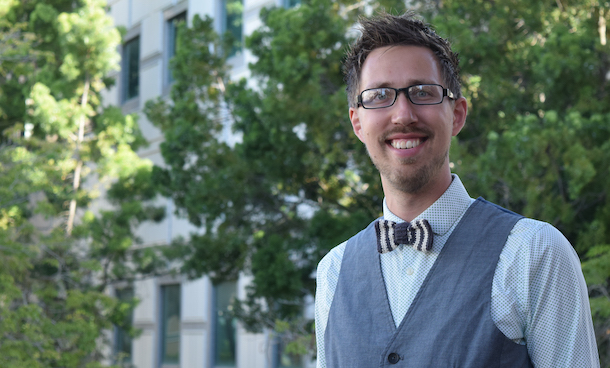 Brendan Smith, Assistant Professor of Mechanical Engineering, empowers their students with the creative and critical thinking skills to apply engineering principles to design, develop, and create solutions to complex problems. Dr. Smith, who joined the top-ranked LMU Frank R. Seaver College of Science and Engineering in 2017, encourages students to join them in the lab to research new devices that can aid in stroke rehabilitation.
"I'm always on the lookout for students who are motivated and eager to apply their engineering skillset to address health-related challenges both local and around the world," Dr. Smith said. "LMU students are teamwork-oriented and strong at thinking about and communicating both the technological and non-technological aspects of engineering design."
Dr. Smith directs the REhabilitation, Assistive Tech & Human Control Theory Lab (REACT), where they lead several ongoing research projects that include undergraduate and graduate students. At present, Dr. Smith and their students are developing and researching a wheelchair-based rehabilitation device called RAE, the "Resonating Arm Exerciser", which promotes movement therapy for the arm to facilitate the restoration of functional movement after stroke.
Additionally, Dr. Smith's REACT Lab is investigating whether stroke and TBI survivors can benefit from using a robotic driving simulator, originally designed for racing simulation, to assess driving fitness and retrain the cognitive, sensory, and movement skills needed to drive safely.
"I strive to find ways to involve students in all aspects of my research," Dr. Smith said. "I view it as a conduit for education and mentorship."
Dr. Smith, originally from Monroe, Washington, moved to Los Angeles to study engineering at Harvey Mudd College. After completing their graduate studies at UC Irvine, Dr. Smith was drawn to LMU for a chance to teach engineering in a liberal arts setting, with small class sizes and in an environment that fosters lifelong curiosity for students and faculty through its teacher-scholar model.
"I love the interdisciplinary aspect of a liberal arts education," Dr. Smith said. "It allows engineering students to practice thinking critically about both technical and non-technical challenges. By exploring a range of topics across the academic spectrum, while learning from the voices and experiences of a diverse student and faculty body, this education prepares our students to become not only well-rounded thinkers and creators, but also the innovative and influential leaders who will shape our profession, and you know, hopefully save the world."
This Saturday, October 16, prospective LMU students can get a sneak peek at Dr. Smith's teaching style and the engineering mindset by attending the virtual Experience LMU Seminar Series session, "Modeling the Dangers of Driving Under the Influence Using Engineering & Programming," at 1 p.m., PT.
Dr. Smith says that the session will allow attendees to gain insight into the field while seeing firsthand how we can use engineering principles to emulate human behavior to solve a specific problem.
"We can understand human behavior by analyzing a human in the same way one would analyze any other engineering system," Dr. Smith said. "During my session, we are going to take a look at how one can use engineering principles to model how a human driver behaves, then we'll validate that model to see if it accurately predicts why driving under the influence is so dangerous."
As for what advice Dr. Smith has for future LMU Lions?
"Find the one or two things you are most passionate about outside of your coursework and really pursue them," they said. "There are going to be tons of opportunities when you get to campus, but focusing on those one or two that most excite you will develop your professional identity in ways that will be most impactful for your career. This will help you use your degree in ways that keep you passionate about your work down the line."
Are you interested in joining Professor Smith's virtual classroom? RSVP Now for their Oct. 16 lecture.