Sister Judith Royer Spotlights Social Justice Issues Onstage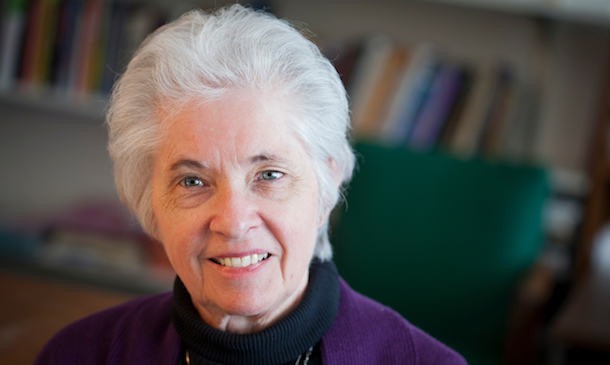 Over the past four decades as an LMU Theatre Arts Professor, Sister Judith Royer, C.S.J., has been on a mission to bring real stories to the stage that inspire social change and allow the voices of the unheard to ring true. A native of Santa Monica, Calif., Royer has long thrived on a desire to create and views her art and role as an educator as a key part of her ministry. .

"There are incredible needs in this world," Royer said. "I was never personally equipped to journey to El Salvador for mission work or lend a hand in the prisons – never my gifts. But I discovered that I could help create art that could inspire and change people's perspectives while training young people for the future."

While pursuing her undergraduate education at St. Joseph's Teachers College, studying English with an emphasis on dramatic literature, Royer found herself much more intrigued by the transformation of a written work on stage rather than just the interpretation of a printed text.

"The only real proof of how a text works is to get it up on stage in relation to an audience," Royer said, citing Arthur Miller's "A View from the Bridge" as a personal favorite for the way it speaks to the human condition.

In the classroom, Royer says she rarely lectures, preferring her students to engage in Socratic discussion or to flex their critical thinking skills, then put them into practice.

"I see myself as training students to think and use their own judgment and giving them the tools to do that," Royer said. "I'm good at taking a student from where they are and getting permission to take them to the next level."

One of Royer's most sought after courses is her dramatized narrative class, "Voices of Justice," in which students explore issues such as homelessness and restorative justice, visiting agencies to interview their clients. Students turn these interviews into original pieces of dramatic work, then perform them for the agency clients at the semester's end.

"It's pretty amazing to see a student look out from the stage while they're performing and seeing the person whose story they are telling right in front of them," Royer said.

In addition to being the Director of LMU's Center for Justice and Reconciliation, Royer also heads up the New Works Festival, which features a series of new short plays written, acted, directed and produced entirely by students.

Royer calls the festival one of her greatest honors as a teacher and that several pieces of work that have appeared have gone on to have a second-life beyond the bluff, some even garnering awards.

"We've had thirty or so plays come out of the festival that were really quite extraordinary and went beyond the normal college level," Royer said.

Outside of LMU, Royer has directed more than 35 revivals and 40 original scripts in the U.S. and the U.K. and has also worked as a producer and dramaturg. She is a past member of the National Playwriting Committee for the Kennedy Center American College Theatre Festival and is the recipient of the Kennedy Center Gold Medallion for her tireless efforts to foster new plays and playwrights across the nation. She is a proud member of the Sisters of St. Joseph of Orange and earned her Ph.D. from the University of California, Santa Barbara.