Poetic Mindset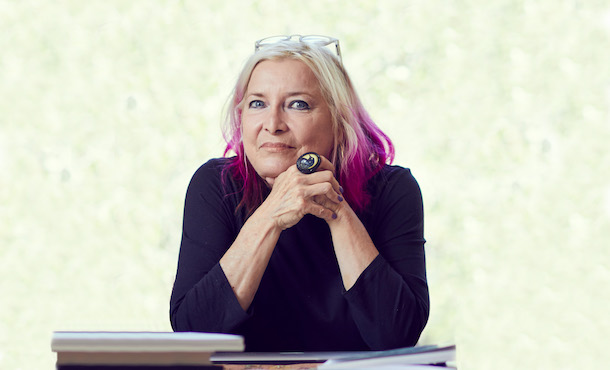 What is poetry? For Gail Wronsky, Professor of English for the top-ranked LMU Bellarmine College of Liberal Arts for over 30 years, it's language, image, strings of words that speak to the histories of the world and the spiritual significances of the human condition. It's a carefully crafted art form she strives to impress upon her students through deep dives into the imagination, advocating for them to develop a creative mindset for the greater good.
"Poetry is a way to discover things about ourselves we didn't know were there," Wronsky said. "And by doing so, we better understand the world around us."
In terms of a philosophy or idea that informs her work at LMU, Wronsky says that the one conviction she has that motivates her is that all her students are intelligent human beings deserving of respect and inspiration.
"I try to inspire my students, the way my poetry professors inspired me, to be better, more imaginative writers and more open-minded and aware people," Wronsky said. "I find it an honor to teach, and I try to bring my best self to the classroom every class. Teaching at LMU has been a wonderful experience—I adore my students who, for the most part, have been smart, thoughtful, aware of social justices and injustices, and eager to learn."
Originally drawn to LMU for its Jesuit mission and Los Angeles location, Wronsky teaches a range of workshop-based courses in creative writing and women's literature, including "Poetic Forms" and one of her personal favorites, "Poetry of Witness," a writing workshop in poetry that explores historical and political poetry.
"It's a course that aligns well with LMU's mission statement," Wronsky said. "College-age students don't have much personal experience to draw on yet, and this course makes them look at historical events, such as the Holocaust and Vietnam, and write poetry that speaks to these things. While reflecting on these histories, the poetry they produce is always very evocative and touching."
During her tenure at LMU, Wronsky has been nominated to be California Poet Laureate and has won multiple research grants, including a California Arts Council Grant and multiple LMU Summer Research Grants. Last spring, she added the Daum Professorship to that list of awards. The Daum Professorship only goes to faculty who have exhibited a record of excellence in teaching and advising, scholarship or creative work, and service and leadership in their department, college, and university. Nominees must demonstrate consistent excellence in all areas of faculty responsibility commensurate with rank.
"I don't know what convinced the committee to award me the Daum," Wronsky said. "I think they found the project — me collaborating with the artist Gronk, a queer Chicanx painter who has exhibited at MOCA, LACMA, the DeYoung Museum in San Francisco, the National Portrait Gallery in Washington DC, and internationally — interesting in terms of its interdisciplinary nature and its focus on Los Angeles." Wronsky added that she is writing poems to accompany a series of drawings by Gronk called 'coffee drawings.'
As for what advice Wronsky has for incoming LMU Lions?
"Open your eyes and mind to all available to you at this great institution," she said. "Take classes from a variety of people and get to know different fields of study, really using your first two years here testing things out. That's what college is for – finding out who you are and where your true passions lie."
Wronsky earned a Ph.D. in English and American Literature from the University of Utah and an MFA in creative writing and poetry from the University of Virginia. She is the author, co-author, or translator of fifteen books of poetry and prose, including Dying for Beauty (Copper Canyon Press), Poems for Infidels (Red Hen Press), and So Quick Bright Things (What Books Press). Her latest collection, a collaboration with the artist Gronk, entitled The Stranger You Are, will be published in October 2022 by Tia Chucha Press.