Lighting the Way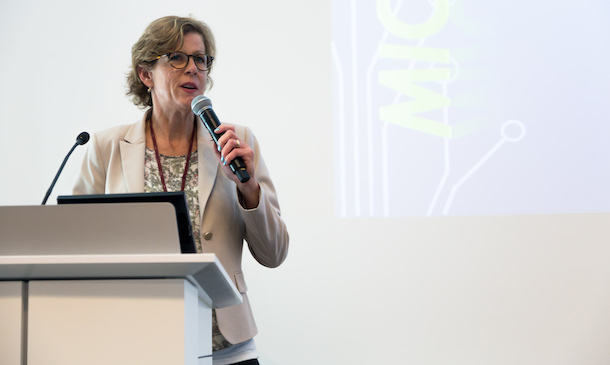 Dr. Barbara Marino, Associate Professor of Electrical and Computer Engineering, strives to ignite her students' passion for electrical and computer systems and their construction, inspiring them to design and build innovative, practical technological solutions to enhance our everyday lives.
"My favorite students are the ones who are passionate about more than just electrical engineering," Dr. Marino said. "I really think it's at the intersection of electrical engineering and other disciplines that exciting things happen."
For instance, Dr. Marino references former student Fosse Lin-Bianco, who conducted research with her on his Acrobatic Acceleration Project —a shoe that tracks the acceleration of a circus performer and uses the results to create digital art pieces based on the movements.
"Of course, engineering is a lot of math and science," Dr. Marino said, "but there's a lot of creativity that goes into it as well. I appreciate the creativity of engineering. Successful engineers have to be creative and innovative, which comes from diverse experiences. Exposure to another discipline or disciplines fosters that creativity."
Originally drawn to LMU for its mission to educate the whole person and its vibrant community of students and faculty scholars, Dr. Marino says LMU is the perfect environment to explore one's passions and discover new ones. Joining the top-ranked LMU Frank R. Seaver College of Science and Engineering in 1996, she teaches a range of electrical and computer engineering courses, including "Introduction to Digital Systems," "Microprocessors and Microcontrollers," "Circuits," and "Computer Architecture," among others.
"I see engineering as problem-solving," Dr. Marino said. "It's solving puzzles. And the best way my students can do that is through practical applications of the theories and principles we've learned in the classroom and lab space."
As for what advice Dr. Marino has for incoming LMU Lions?
"Make a point of going to your professor's office hours during the first couple weeks of school and introduce yourself," she said. "I would also encourage you to explore many of the different opportunities available to you on LMU's campus. Find something outside of academics that you are really passionate about. You'll meet many like-minded friends that way and get out of your academic headspace for a while."
Dr. Marino earned her MSEE and Ph.D. in Electrical Engineering from the University of Notre Dame and her BSEE in Electrical and Computer Engineering from Marquette University. Before coming to LMU, she worked on military IFF systems as a systems engineer at the Naval Research Laboratory in Washington, D.C. She has published and presented papers at national and international conferences on enhancing degraded image data. Dr. Marino is a member of the American Society of Engineering Education (ASEE) and the faculty moderator for the Society of Women Engineers (SWE) student branch.