The Power of Language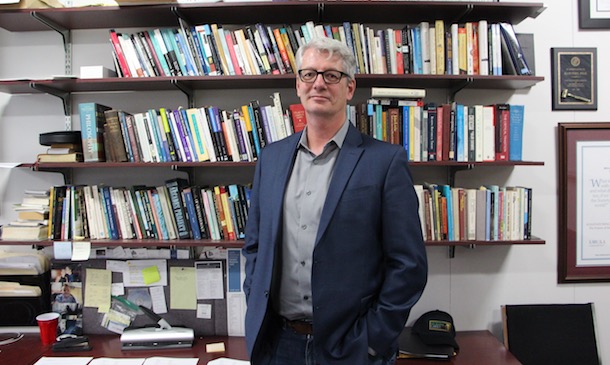 English professor K.J. Peters is an intellectual frontiersman, venturing with students into worlds built from nothing but words, imagination and grit. Hailing from Nebraska, Peters has been sifting through the works of Ernest Hemingway, Mark Twain and Willa Cather on the bluff for nearly two decades, all in pursuit of what he calls "the beautiful," and the occasional nugget of fool's gold.

"LMU is very distinct from other schools," Peters said. "The students come very well prepared academically and you can push them without fear of them crumbling. They have a real resilience about them, a certain kindness."

Originally drawn to LMU for its Jesuit scholarly tradition and the faculty's dogged pursuit of the mission, Peters received his Doctorate from the University of Nebraska, specializing in critical theory and interrogative rhetorics. Prior to his tenure at LMU, he was a professor at Simon Fraser University in Vancouver.

Peters' specialty is rhetoric and composition, and in particular Jesuit rhetoric. His courses include American Literature, Rhetorical Arts, Critical Theory and author courses on Hemingway and Twain, among others.

"I try to get students to engage with concepts in the text," Peters said. "I build a theoretical framework for them to work within and experiment."

This summer, Peters will lead a course called "Hollywood's Portrayal of the American West" as part of LMU Summer Programs, a two-week pre-college experience for rising high school seniors that aims to enlighten and transform.

Peters says students will discover the myth of the American frontier through visual texts such as "The Searchers," "Stagecoach" and "Rogue One: A Star Wars Story," in order to uncover certain unquestioned contemporary habits, practices and beliefs.

"Hollywood is the prime builder of the Western myth," Peters said. "And the same tools and techniques used in classic Western films are still being used today to make films such as 'Star Wars.' Many of the same motifs are being repeated and re-interpreted to this day."

The course will culminate with a final project in which students will create a visual essay identifying a certain characteristic of American mythology and exploring how it will be transformed in the future.

"I've built an intensive two-week course and I'm curious to see how students will handle it," Peters said. "My pre-college students last summer had amazing intellectual appetites and were always ready for more."

Outside of the classroom, Peters runs the Irish Studies Program, is a member of Faculty Senate and is a Faculty Athletic Representative working with LMU athletes. Additionally, his rhetoric and writing textbook, "The Argument Handbook" (Broadview Press) is expected to be released later this year.