Research Deep-Dive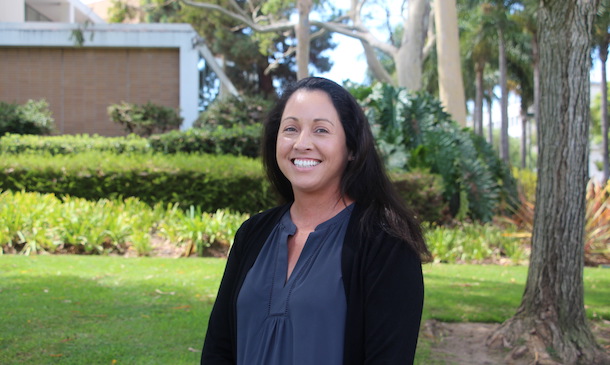 Christina Vasquez, Assistant Professor of Biology, encourages her students to dive deeper into the field of marine physiology by providing them with opportunities to flex their research muscles inside the classroom. Vasquez, who joined the top-ranked LMU Frank R. Seaver College of Science and Engineering in 2018, recently created a class called "Marine Physiology Field Lab," which allows students to do just that.
Vasquez says that the course integrates basic marine biology with the knowledge of coastal systems, then merges this with an understanding of climate change's future implications and effects on marine animals using physiological research techniques.
"I wanted to create something where students could get hands-on research experience in the classroom," Vasquez said. "What I'm trying to teach them is real stuff. The data we collect in class could very well turn into a paper that gets published and have a real impact in the world of marine physiology."
Drawn to LMU for its diverse student body and Jesuit mission, Vasquez added that opportunities for undergraduate research, whether inside or outside of the classroom, are characteristic of an LMU education, no matter one's field of study. For instance, the LMU Seaver College Summer Opportunities for Advanced Research (SOAR) program provides funded opportunities for Seaver College undergraduate students to participate in faculty-mentored, hands-on research that deepens their academic experience and analytical skills.
This past summer, Vasquez and a handful of her students participating in SOAR investigated the effects of multiple environmental stressors on an invasive mussel that is proliferating in Marina del Rey. Vasquez says that she and her students exposed the mussels to stressors such as heat and fluctuating water salinity to measure feeding efficiency, metabolic rate, and antioxidant activity in order to better understand the mussel's physiological responses to environmental stress thereby predicting future rates of survival and long-term sustainability in the area.
Vasquez is currently working on a paper, co-authored by two of her students, based on their research endeavors. The students will present their findings in November at the Western Society of Naturalists Conference.
Outside of the classroom, Vasquez also serves on Seaver's First Year Advising Committee, is part of the Coastal Research Institute, and is a faculty fellow, helping to inform the Santa Monica Bay Foundation about coastal changes in the L.A. area.
As for what advice she has for future LMU Lions?
"Be prepared to work hard, learn how to manage your time well, and get to know your professors," Vasquez said. "The first thing I tell my freshmen students on day one is to take advantage of office hours with your professors. Come say 'hi,' talk to us; we want to make sure you're successful in your career at LMU."
Vasquez received her B.S. in Animal Science from UC Davis in 2006, her M.S. in Biology from California State University, Northridge in 2009, and her Ph.D. in Animal Molecular and Cellular Biology at the University of Florida in 2013. She was awarded an NSF Postdoctoral Research Fellowship in Biology for Broadening Participation in 2014, which she completed at Cal Poly San Luis Obispo working with Dr. Lars Tomanek in the Environmental Proteomics Laboratory.