Designs on the Greater Good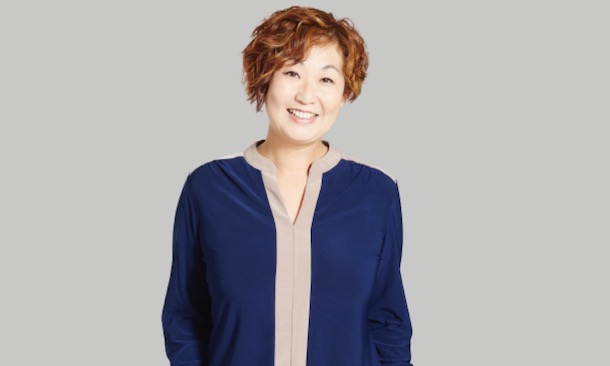 Saeri Cho Dobson, associate professor of graphic design, lives by a simple motto: practice what you teach and design with a higher purpose in mind. Since beginning her teaching journey at LMU over a decade ago, the celebrated graphic designer's pursuit of justice and moral responsibility through art has become a hallmark of her classes in the top-ranked LMU College of Communication and Fine Arts.

"When I went to design school, it was all about how to make your art commercial, how to sell, sell, sell," Dobson, who came to America as an international student from South Korea, said. "So I fell in love with LMU's commitment to social change and the promotion of justice. I think it's important to make your work meaningful to others in some way and hopefully bring about positive change."

Thus far, one of her proudest contributions to the university has been a class she created, "ART 395: Design Entrepreneurship." It is an interdisciplinary course where design and business students collaborate to develop marketable products that serve a community in need.

One cohort of her students developed an eye-catching product called "Sweet Saviors," glucose strips for diabetic children to put on their tongues when they need a spike in their glucose levels. The product removes the guesswork that parents with diabetic children often grapple with when dealing with glucose substitutes.

Dobson added that the design entrepreneurship class is conducted in partnership with the LMU Center for Service and Action and several different nonprofits in Los Angeles. For example, a group of Dobson's students collaborated with the Lamp Community in downtown Los Angeles, which offers art and music programs for homeless people. Her students' project also included the design of a portable, solar-powered cell phone charger for the homeless who aren't always welcomed in coffee shops and private establishments.

"It excites me to see my students solving problems through graphic design," Dobson said.

Dobson recently received a City of LA (COLA) Artists-in-Residence Grant, from the Department of Cultural Affairs in Los Angeles. The residency program allows artists to provide community-based, participatory projects in self-selected non-arts venues throughout the city to gather, connect and inspire audiences with little exposure to the arts.

As an Artist in Residence, Dobson hosted four intensive art workshops and weekly art and design activities for adults with intellectual disabilities. In addition, an exhibition showcased her student's year-long art and design projects.

"This grant enlightened me with the joy of discovery and the gift of teaching individuals with disabilities," Dobson said.

Outside of the classroom Dobson runs her own company, "Hope by SaeRi," which makes one-of-a-kind tote bags. Each bag sold raises awareness and funds to help support the poverty-stricken girls of Bangladesh, who are denied a proper education and often expected to marry by the age of thirteen. Partnered with the non-profit "Speak Up for the Poor," Dobson's company is currently raising money to build education centers and dormitories for displaced young women and provide books and educational supplies for young girls at risk in Bangladesh. Since launching in 2010, "Hope by SaeRi" now serves 526 girls in 18 villages, with plans to expand to Cambodia, India, and Thailand in the future.

Dobson earned a bachelor of fine arts in Communication Design from the Parsons School of Design at The New School in New York City and later graduated with her master of fine arts in Communications and New Media Design from the Art Center College of Design in Pasadena, California.